PHOTOCATALYTIC ANTI-VIRUS SURFACE COATING
This Japanese innovation, powered by nanoYo, is an intelligent coating that harnesses the energy of light to decompose and degrade bio toxic agents to harmless carbon dioxide and water. AlwaysOn is the most powerful self-cleaning and self-sanitizing system in the world. It uses small particles (2-3 nm) that bind to substrates carrying strong photocatalytic effects under the wide light spectrum to create a healthy environment.
Inactivates bacteria & viruses 99.999%

Self – sanitizes surfaces 24/7

Eliminates micro-organisms, pollutants, fungus & odours

Purifies air continuously

Lasts for 5 years
RECOGNITIONS & ACCOLADES
Biomedical Science Association (BMSA) Tokyo, Japan:
Effective against human coronavirus 99.999%)
SGS (Thailand) Limited Laboratory Services:
Free of Hazardous substances like Mercury, Lead, Cadmium
Kaken Test
Center General Incorporated Foundation Osaka, Japan:
99.99% effective on influenza A virus
Quality Sistem Mérieux NutriScience, Turkey:
99.999% elimination of harmful bacteria like Staphylococcus aureus & Salmonella typhimurium
HAFFKINE Institute, Mumbai:
99.999% inactivation of bacteria like E Coli, Salmonella Typhi, Staphylococcus Aureus, Pseudomonas Aeruginosa, Methicillin Resistance, Candida Albicans
MATTRESS CLEANING SYSTEM
An average mattress has over 2-10 million dust mites and 16 million bacteria and fungi. Dust mites feast on human dead skin cells and sweat for 170 days. They spread rapidly. A female dust mite can lay 300 eggs in a single time. Dust mites produce guanine — a combination of mite dropping and saliva that creates harmful allergens. Dust mites may cause asthma attacks, stuffy nose, sneezes, headaches, skin allergies, eczema, bronchitis, itchy red eyes, and sinus. Make your mattress a haven of comfort, not a den of ill health. With our 3 Layer Mattress Cleaning System.

1st Layer:
Mattress Cleaning
Scientifically proven Hygienitech Mattress Cleaning is a chemical-free process that combines high frequency and germ-killing, UVC light to pulverize & extract all the dust mites, bacteria, viruses, and other sediments from your mattresses.
2nd Layer:
UV-C Light Sanitizing
Germicidal and extremely low-grade ultraviolet radiation that targets and deactivates the DNA of dust mites & microorganisms, thus destroying their ability to multiply and cause disease.
Operating in
91 Countries

Over 20 Years
of Experience

Safety All
Round the Year

1 Year
Guarantee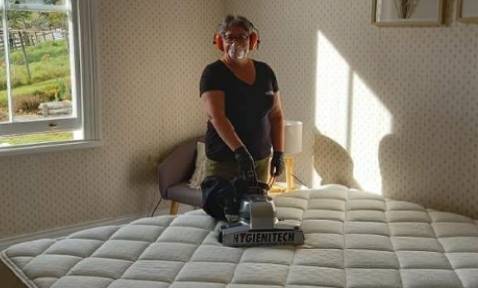 FLOOR CLEANERS
Get high-performance cleaning of your facilities with Duplex floor cleaners. These machines are built to clean and sanitise all kinds of floors — Carpet, entrance matting, vinyl, natural stone, profiled rubber, flotex, timber, safety floors, profiled ceramic, and sports anti-injury. Choose from Duplex 240, Duplex 340, Duplex 420 and Duplex 380 Turbo. Duplex 240 is ideal for small facilities with less floor area. Duplex 340 and 420 wash, sterilize and dry all types of flooring through powerful steam jets. Duplex 380 Turbo sweeps, scrubs and dries in all working directions in a single pass.
Single handed
operation

Exceptional
manoeuvrability

Light and easy
to operate

Dries floor
in minutes